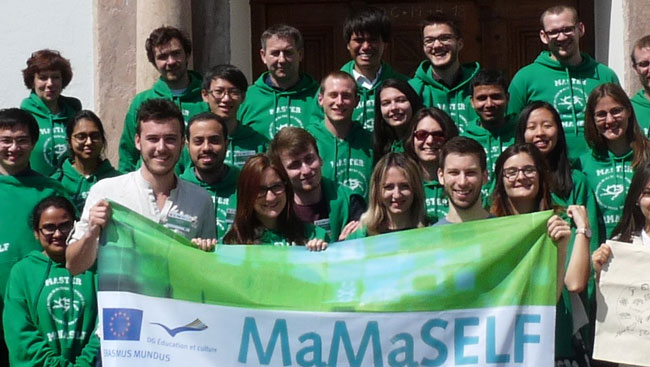 Joint Master Program MaMaSelf
Deadlines
The scholarship deadline for Non-European students is 31 January 2024.
The scholarship deadline for European students is 20 March 2024.
All  students can apply until 15th May 2024, without scholarship.
Results
The results will be published on the application site by mid March 2024
Status
Your status will be published on the application site, you can see your result online : https://application.mamaself.eu

Accepted Mainlist: the student is selected for the program with a scholarship.


Accepted: the student is selected for the program, but is not on the mainlist for the grant yet. The student with status « accepted » is on the reserve list for the scholarship. He / she can eventually access to the mainlist for the grant later on. The student is fully accepted and can join the Master without grant.


Non-selected: the student has not been selected in the 2024 Mamaself selection.


Welcome to the Mamaself application site !
On this application site you can apply for MaMaSELF, a Master in Materials science. For this application a Bachelor in science is compulsory: Bachelor in Materials science, or in Physics or in Chemistry or  Geoscience or related disciplines.(Bachelor must be received before August 2024).
The recruitement is now open for Mamaself cohort 2024-2026
Important information
Before starting your application, please read carefully the information given on the MaMaSelf website regarding the application.
For all information, please refer to our website www.mamaself.eu
In the application, some documents are "optional", please notice that these complementary documents will be a asset for your application (especially information regarding the syllabus of your previous course).
Application procedure
A student can apply maximum 3 times for Master Mamaself. After 3 applications to the Master, the next application will not be considered.
Create your account
Fill the application form
Add the requested documents
READ the FAQ in order to have all information
(especially regarding English proficiency and reference letters)
The application will be evaluated in February for non-EU students.
The results will be given first week of March for non-EU applicants, and first week of April for EU students.
Correspondance
For all correspondance by e-mail, please indicate your name, first name and your nationality as well as your Application ID number. The Application ID number is compulsory in order to avoid confusions.
When you write an email, please use the same e-mail adress that you have used for the application site.